I checked and doubled checked the weather.  Rain?  Really?  I told myself not to worry because rain showers in Savannah during March always come & go.  So I didn't panic but instead prepared myself for the rain.   I packed my camera gear, an umbrella for myself & an extra large black umbrella for my clients, just in case.  I worried as I waited because I knew my "bride-to-be" would freak out when she saw the overcast dark skies in the background.  I arrived early just to prepare myself for a "rain plan".  As I stood in the parking lot & waited, I glanced up from my phone to see a beautiful girl approaching me.  And she was smiling so big!  It was Jessica.  Before she could speak, I immediately tried to calm her fears about the rain.  But, before I could finish my ramblings about rain she interrupted me and said "I'm not worried . . . I brought my umbrella!".  In her left hand, as if she were carrying a sword, she quickly raised a PINK umbrella and smiled again.  At this point, I knew that whether rain or shine, their shoot would be fabulous! AND it was!
This is Jessica & Chris.  A few things involved in their engagement shoot are : rain, sunshine, a pink umbrella, azaleas, a few sand gnats, a parrot & a duck, a big ship, cowboy boots, Groucho Marx funny nose glasses and ICE CREAM!!!
Jessica and Chris are getting married at The Mansion at Forsyth Park, so I wanted to take a few photos around the mansion to start things off.  Because there was a wedding going on inside, we simply took a few images around the outside area.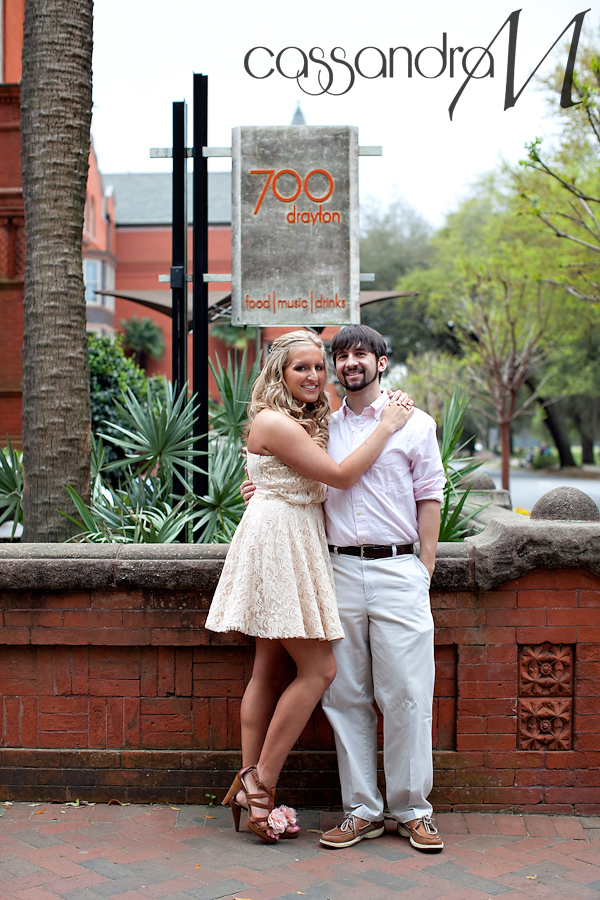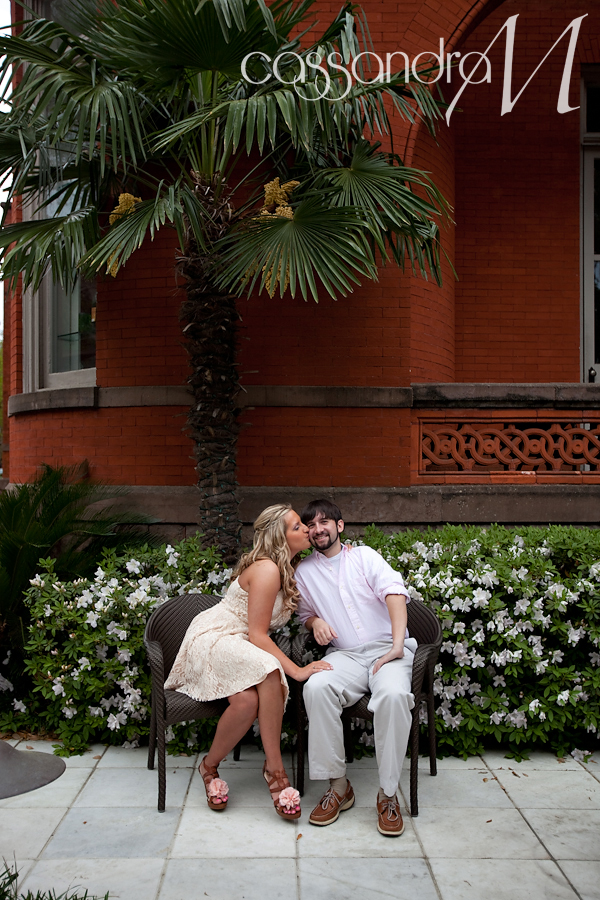 Jessica knew from my blog that I'm a "SHOE GIRL" and that I love to photograph shoes!  (I was secretly HAPPY that she had visited my blog enough to know this.  Jessica you get extra bonus points for being a "cool" bride.)  Anyways, she came prepared with these awesome heels topped off with some pink painted toenails . . .  YES, I smiled BIG!




At this point it was raining and we ducked under a small walkway to get out of the rain.  When I looked up and saw a chandelier hanging above us outside, well I immediately knew I must get a few photos. Shooting in the rain while holding my camera and balancing an umbrella under my arm, I was able to snap a couple beautiful images.






Just 10 minutes later the skies cleared up and as we walked towards the fountain at Forsyth Park, we passed some beautiful azaleas.  Another must have photo.  LOVE IT!



Then within the next 10 minutes, the rain came again!  Not to worry though, because Jessica and Chris were both cool with standing under the umbrella for a few quick images.  These guys were so amazing, when things could have been so stressful, they just went with the flow and this made their photo shoot even more fabulous.









Love this photo . . .
As we walked through the park, the rain stopped and the skies cleared.  YEA!  I found this interesting purplish color bush/tree that made for an awesome backdrop.



Sometimes, I love to off-center my clients when I am composing a shot.  I think it just makes the photo more interesting.  I do this on purpose, just in case you were wondering.
I love this time of year with all the flowers blooming and the grass is GREEN!   I found this area and the Spanish moss hanging from the trees caught my eye.
Again, I frequently off-center my subjects.  In this photo I wanted to keep the Spanish moss blurred out in the upper left corner while keeping Jessica & Chris the main focus of the photo.
These were a few photos simply for FUN!  Thank You Chris for being so awesome!  Riding the parrot went over & beyond my expectations!  You rock!






After photos at Forsyth, we headed down to the Riverstreet area for the second part of the shoot.   Jessica changed into another awesome outfit and swapped her sweet heels for a super cool pair of cowboy boots, which I unsuccessfully tried to talk her out of.  ha ha.  Anyways, I just love this photo on the bridge . . . it is one of my favorite images from the shoot.
And this is another FAVORITE photo . . .
As we were shooting on the bridge, a huge cargo shop was leaving from the Savannah River.  I was able to grab a few quick photos.
Factors Walk is a very popular historic place in Savannah.  I usually don't shoot under signs like this, but I wanted to keep some Savannah landmarks in their shoot.
A series of silly photos?  YES please.  Groucho Marx funny nose glasses?  YES please.  A couple willing to be goofy for my camera?  YES YES please!  Thank you guys. You're both AWESOME!
As we headed up to Broughton Street, we passed another one of Savannah's historic landmarks . . . The LUCAS Theatre.  YEA YEA YEA, another awesome photo opt!
The last part of the shoot was definitely Chris' favorite!  ICE CREAM @ Leopold's on Broughton Street.  Stratton Leopold is a local celebrity and his ice cream store is famous!
Stratton's career in Hollywood has earned him respect as an executive producer and his ice cream store in Savannah has earned him a fan base of all who love ice cream!
Shooting the last part of the engagement photos at Leopold's Ice Cream was a win win!

Jessica and Chris . . . I had so much FUN with you guys!  Thank You for making me LOVE LOVE LOVE my JOB even more!  Thank you for making me smile and laugh!  I hope your engagement shoot was as awesome for you as it was for me!